Buy Your New Car Online with Digital Retailing Tools from Moon Township Mazda
Are you looking to shop for your next new vehicle at a time and place that is convenient for you? You can now purchase online with the digital shopping tools available from Moon Township Mazda, which takes you through the same experience you would get when you make the trip to the dealership. These online tools make it straightforward and simple, allowing you to find the perfect complement to your lifestyle.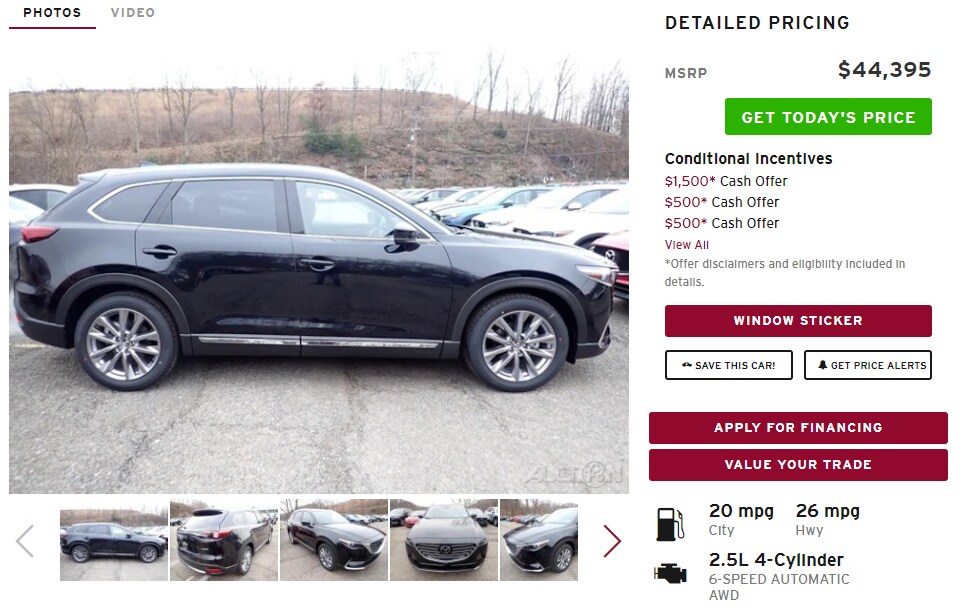 Your Journey Starts Here!
You can buy a car from home with ease! The process starts with a look through our online inventory of Mazda models. You can explore a variety of sedan, hatchback, convertible, and SUV options, and learning about ones that suit many different ways of life. You can get to know the Mazda MX-5 Miata if you prefer a speedy trip along the roads. Options like the Mazda3 and Mazda6 are ideal for those drivers who want a dependable sedan for their family life, while the Mazda CX-3 and Mazda CX-5 add more versatility and capacity for life's next big adventure. No matter what style works best, you can find the solution through our online inventory. The filters on the page will allow you to narrow down the choice with options like exterior color, trim level, and even your favorite features. Buy a car from the comfort and safety of home and follow the steps of online shopping from Moon Township Mazda.
Personalize Your Payments
Once you have the vehicle, you can learn about the payment plans that are right for you. Our online tool allows you to discover whether a loan or lease works for your budgeting needs. It can help you calculate your perfect plan by determining interest rates, term lengths, and your down payment. With these steps in the process, you can figure out what you'll be looking at for your new Mazda's monthly payments! Find the right budget plan that fits into your needs!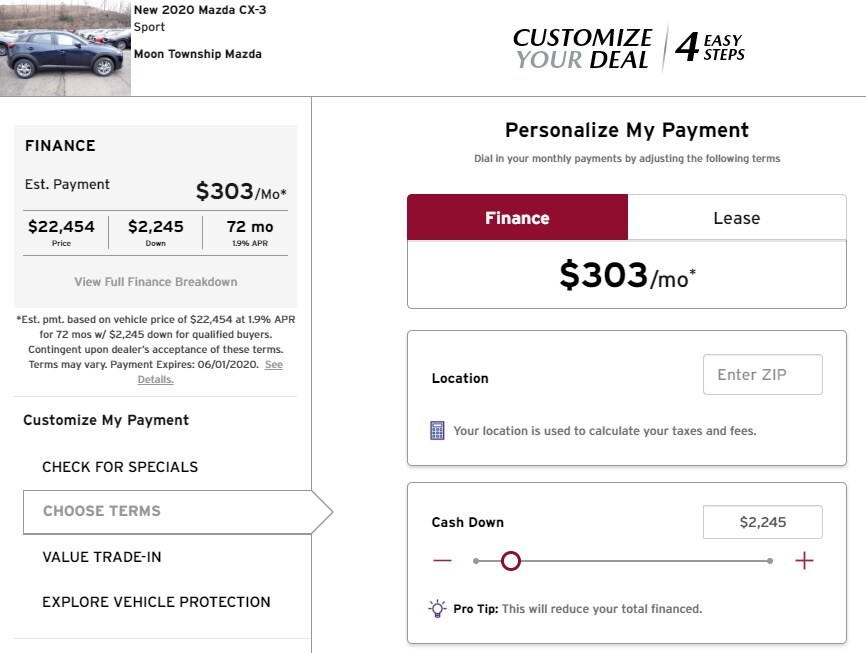 ---
Value Your Trade-In
Are you looking to move on from your current vehicle? With our online trade-in calculator, you can figure out what the value of your vehicle is and use that amount towards your new Mazda purchase. For this trade-in tool, you need to plug in the relevant information of your current vehicle, including its background and condition. The tool will then match that up against the current marketplace trend for that specific model and show you a fair value for your vehicle. You can then use that towards your new Mazda's down payment, helping you save money on the monthly payments.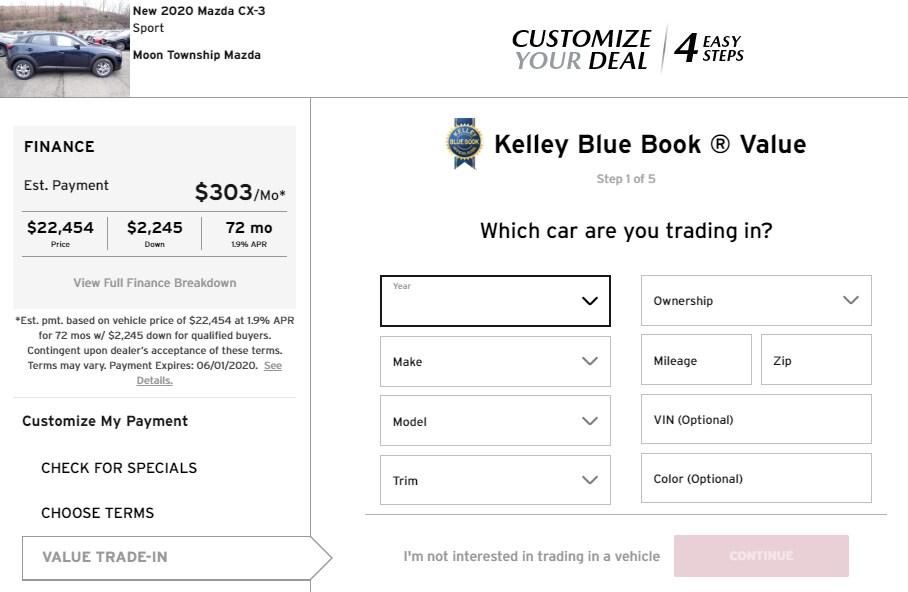 ---
Vehicle Protection
If you're looking to add more guaranteed protection to your new Mazda, we offer a variety of vehicle protection for your peace of mind. These plans explore additional warranty plans for extended coverage after the manufacturer's warranty ends. We're happy to walk you through the benefits over the phone of each plan to find the one that's best for your needs.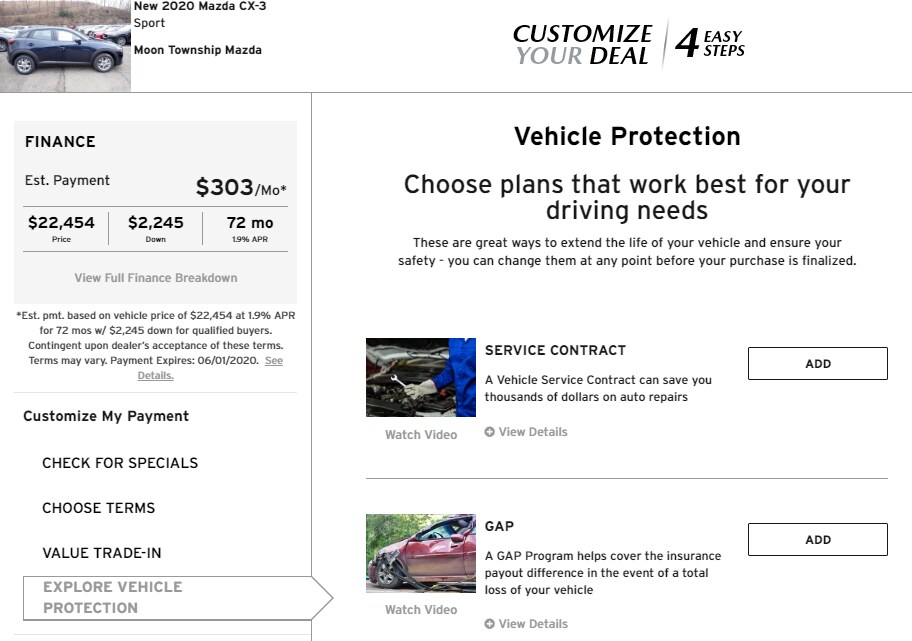 ---
Schedule a Test Drive
When you want to get to know the new Mazda you've picked out, you can schedule a time and date to test drive it. It allows you to explore the newest features and amenities that it has to offer. Just pick out a time and swing by the dealership to start the test drive process!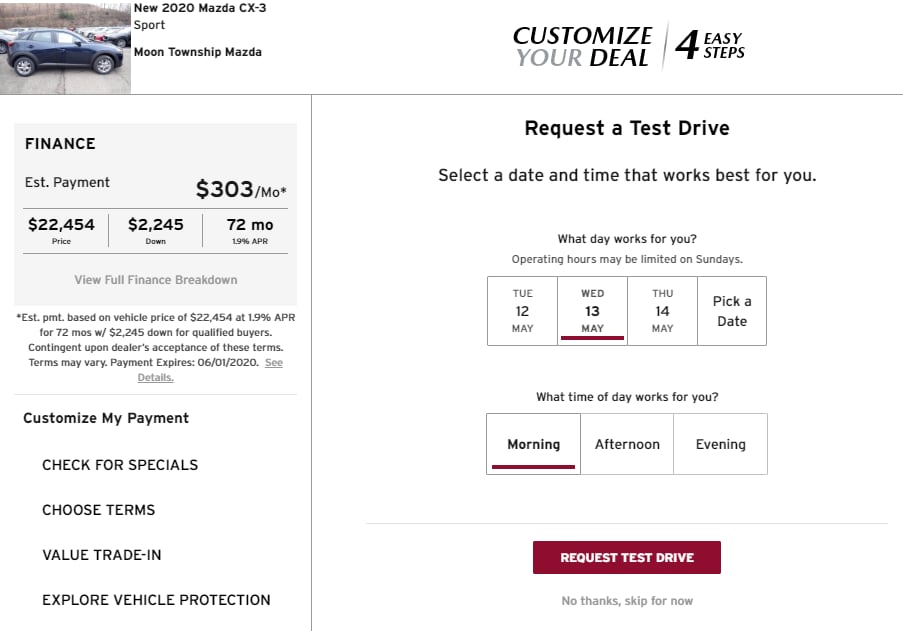 ---
Reserve Now
Finally, you can ensure you get the perfect Mazda for you and guarantee it's yours by reserving it online. You'll be able to make sure the model is just right for your lifestyle. We'll even deliver right to your driveway, so you can ask us any questions about your new Mazda and finalize the paperwork right there on the spot! We can't wait for you to shop online and find your new vehicle from the safety and comfort of home!